The 2014 SEMA Show in Las Vegas was packed to the gills with cool custom cars of every size, shape, make and model. Whether you like timeless classic cruisers, resto-modded street machines, purpose-built drag racers, modern muscle, trucks, or even motorcycles, the show has some of virtually everything. So, we walked the show and snapped photos of some of our favorite cars to share with you.
1955-57 "Tri-Five" Chevys were especially popular this year, with a wide variety of different models on display. However, there were some that stood out more than others. So, without further ado, here are our Top 5 Chevy Tri-Fives of this year's SEMA Show.
1. Bodie Stroud's 1957 "GMonster" Bel Air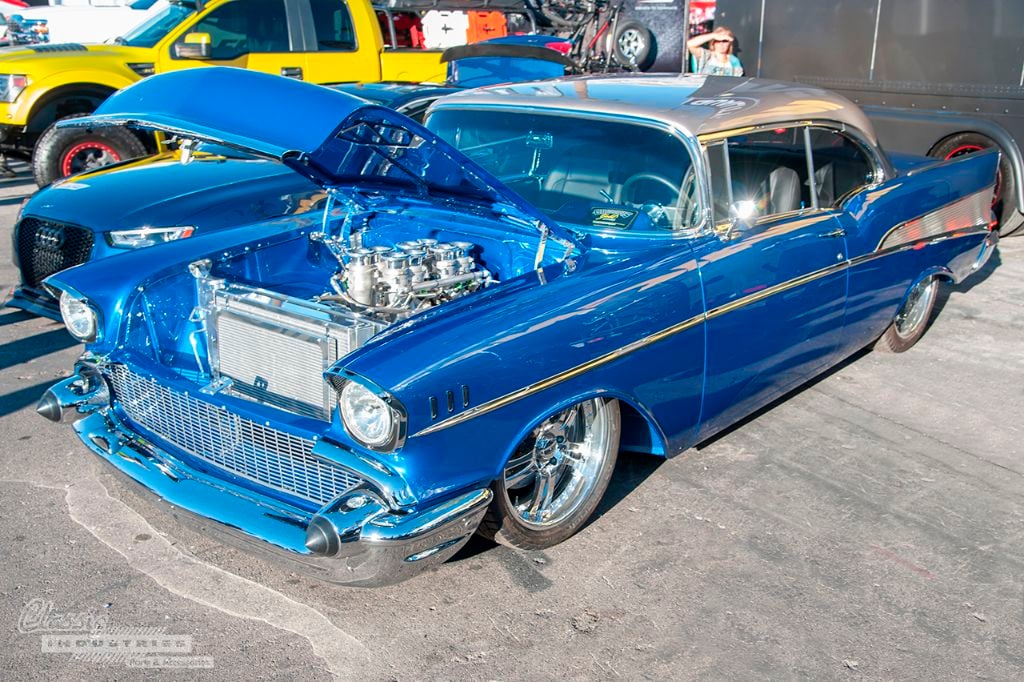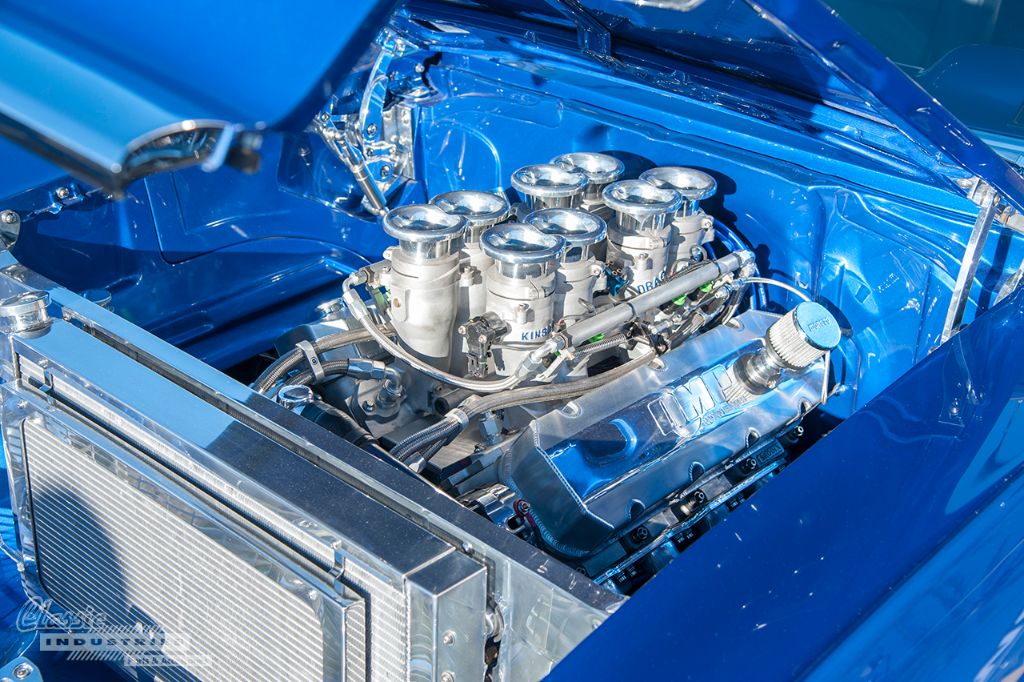 Award-winning builder Bodie Stroud created this gorgeous blue '57 Bel Air for his friend, James Cole. The car is full of subtle modifications, including a shaved hood and trunk lid, custom bumpers, and a full bolt-on BSI suspension with EZ-Aline adjusters. Less subtle is the 509ci big block engine under the hood, which produces 800hp and sports a cool Kinsler stacked injection system.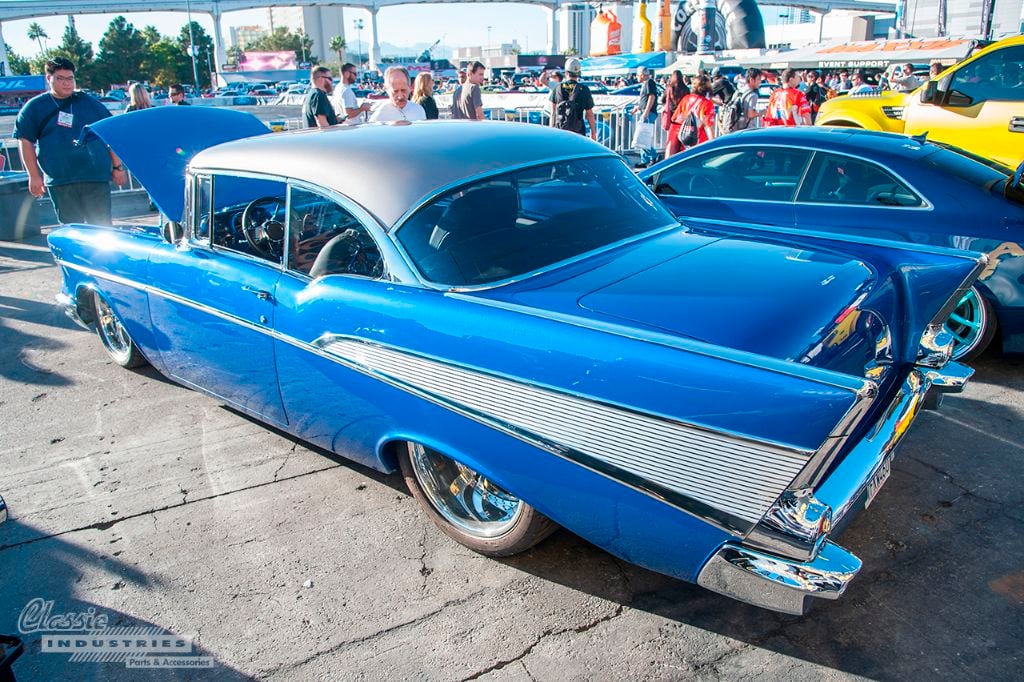 We'll admit we might be a little biased for choosing this as our #1 pick, since Classic Industries did provide quite a few parts for Bodie's build, such as trim, moldings, glass, and interior parts. However, its vibrant blue paint (matched to the owner's wife's favorite nail polish color!) and shiny big block were drawing crowds all day long. There's no doubt this Bel Air was a favorite among show-goers.
2. Dan Duffy's 1956 "Two Ten" 210 Post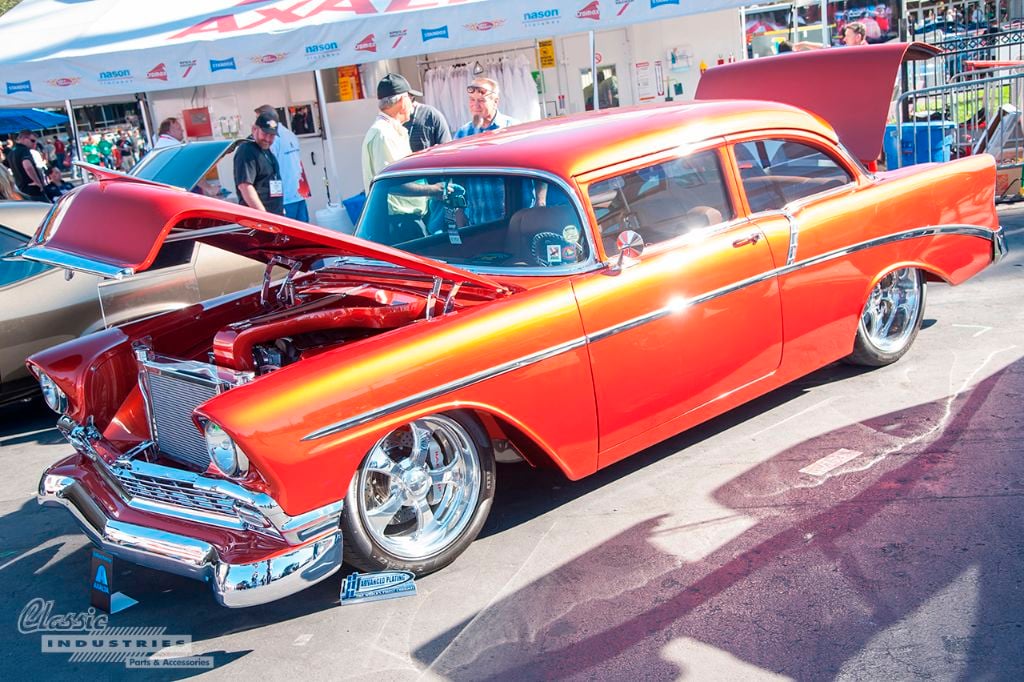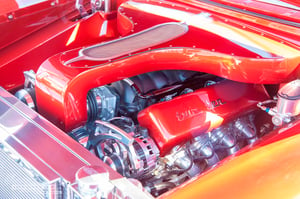 The moment we saw this '56 Chevy, we loved it. From the Sunset Orange metallic paint, to the customized LS engine, to the billet wheels and big brakes, this car is an absolute beauty in person. We also liked the fact that the owner chose a '56 210 model to build, rather than a more traditional and popular '55 or '57 Bel Air. It's refreshing to see these less conventional models getting their share of the spotlight.
Similar to the blue Bodie Stroud car, this Tri-Five is full of shaved panels and custom details. Under the hood, a custom air intake was formed out of sheetmetal and painted to match the car's body, and custom valve covers feature Two Ten script badges. At the rear of the car, you'll find a V emblem with integrated third brake light—how cool is that? The entire car is really well-done, both inside and out, and it garnered lots of attention outside the Las Vegas Convention Center.
More info on this car can be found on our previous blog feature here: SEMA 2014 - 1956 Chevy 210 Blog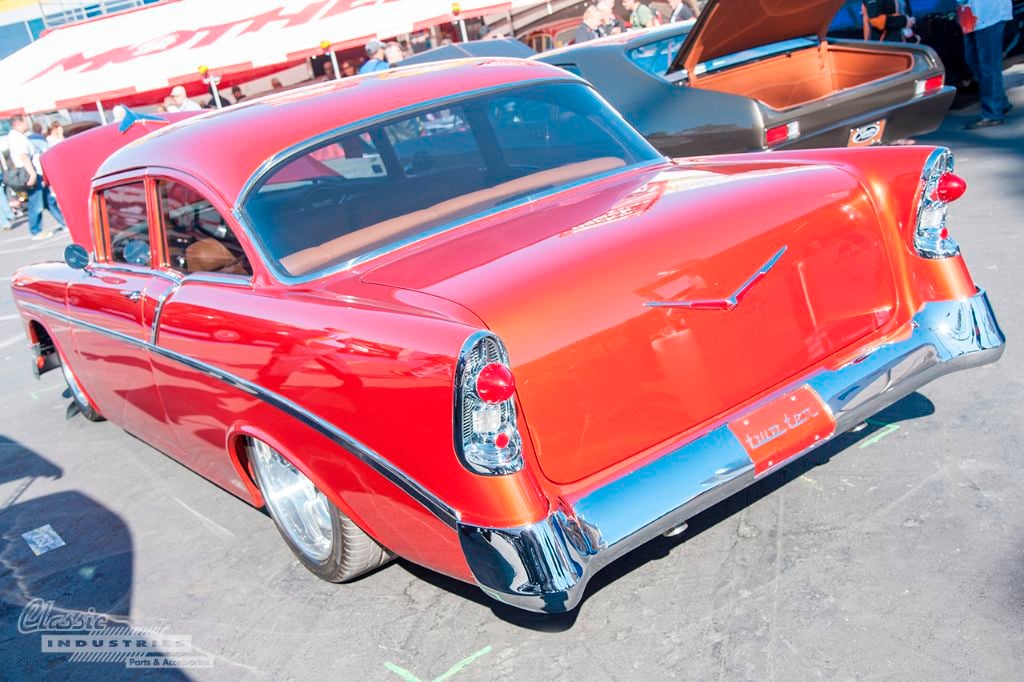 3. Larry Frees' "Mr. Chevy" 1955 Bel Air Gasser & 1955 Chevy 4400 Truck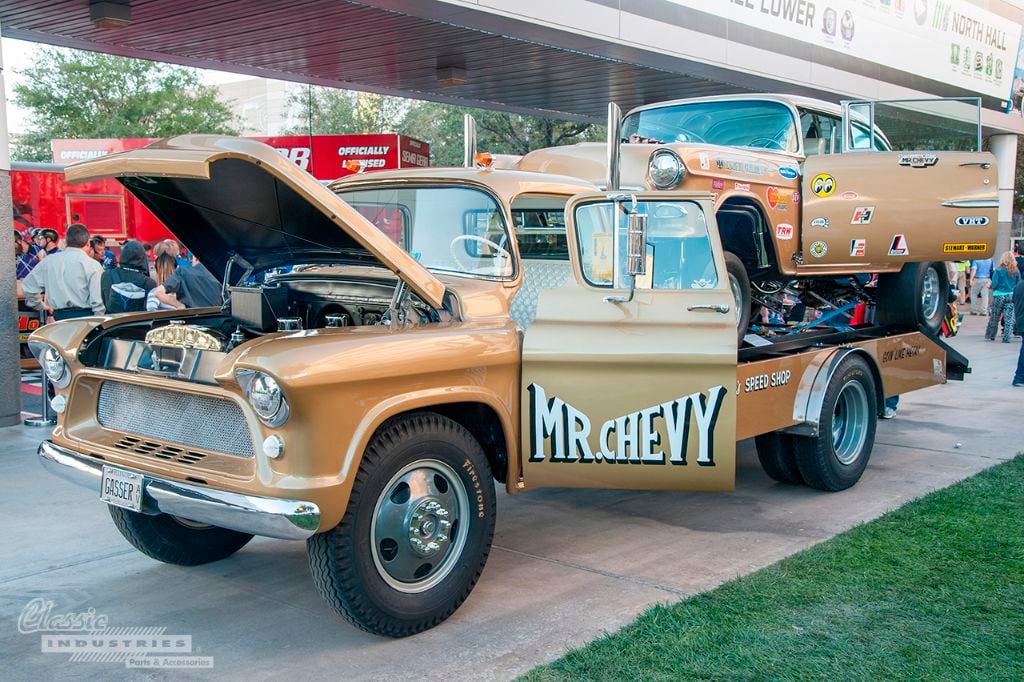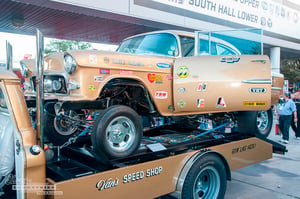 If the combination of a period-correct 1955 Bel Air gasser and 1955 Chevy flatbed truck isn't enough to make you smile, this duo's story certainly will. It turns out the car and truck were built this way back in 1968, and the car was raced until 1976 by Van Heck in the state of Illinois. In '76, the car broke a U-joint at the track, and was loaded onto the truck for the ride home. However, a drunk driver slammed into the truck, totaling it. The car remained unharmed, and was put into storage.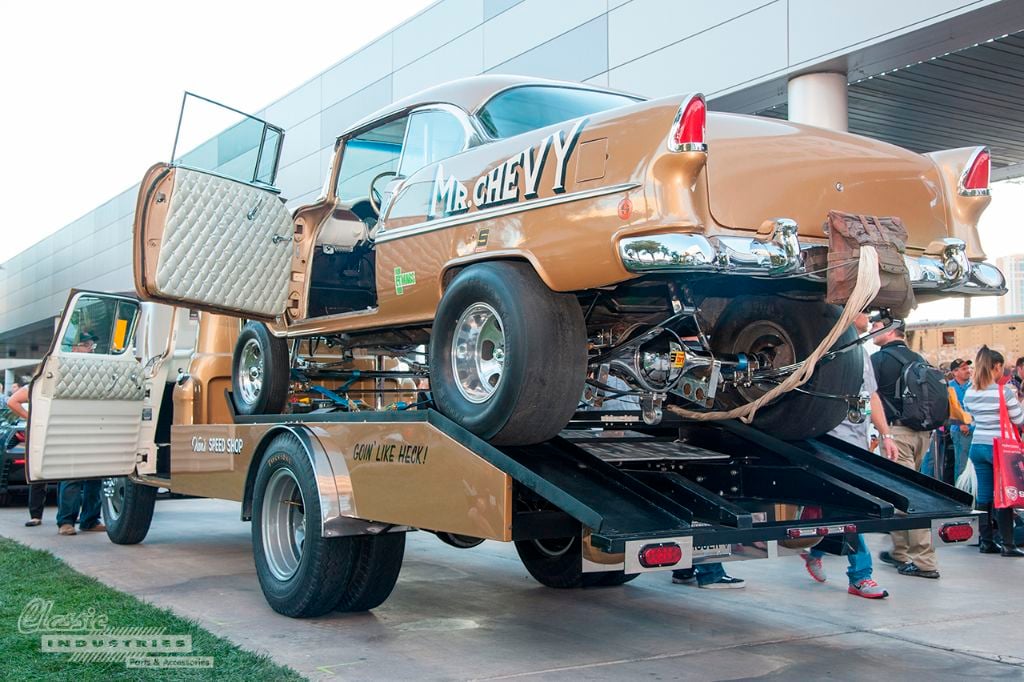 Decades later, Larry Frees purchased the cars at an estate sale, and painstakingly restored the truck to its original glory. The gasser, however, remains mostly unrestored—it even wears the same set of 38-year-old Firestone tires it wore the day of the crash. Both the restored truck and the surviving gasser were reunited and put on display together at the SEMA Show. We love the history behind this pair of classic Chevys, as well as their matching gold paint schemes, and that's what put this gasser in our #3 spot.
4. Steve Carpenter's "Asphalt Animal" 1955 Bel Air Gasser
This year's SEMA show featured a number of vintage-style gasser builds, ranging from rough rat-rods to glistening show cars. The "Asphalt Animal" owned by Steve Carpenter falls into the latter category. Every last piece of the car is painted, powder-coated, or chromed, with lots of attention to detail apparent. Under the hood, there's a high-revving naturally-aspirated 600hp V8 engine, topped off with shiny velocity stacks that protrude through the sheetmetal.
We also really loved the gorilla graphics on the doors and the eye-catching gold leaf lettering, paired with the iconic nose-high gasser stance. It's an old-school build style done with modern flair, and that's something we always appreciate. Steve says it's a real handful to drive, and we believe it.
5. "Beach Bar Rum" 1956 Wagon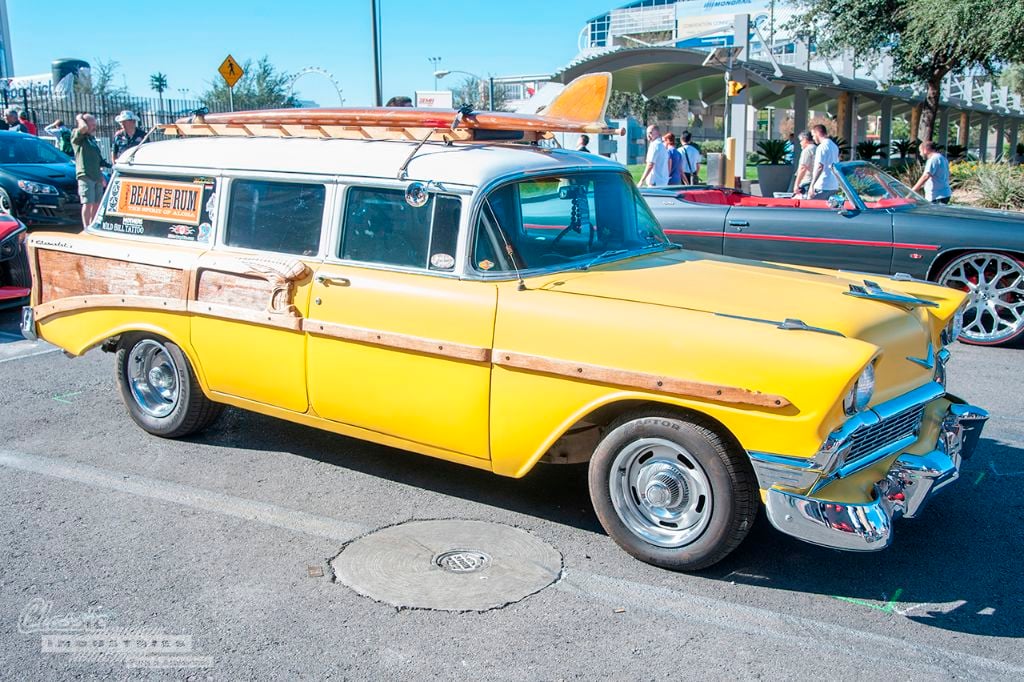 This matte yellow 1956 Chevy wagon was transformed into a cool beach cruiser, and we really liked the restraint shown by the builders. Many cars at SEMA are built in an over-the-top fashion, attempting to draw a crowd through flashy lights, wild paint, and tacky add-ons. Despite its bright color, this '56 seemed reserved in comparison.
The 15-inch rally wheels and spotless chrome add vintage appeal, and the hand-carved wood side moldings fit the theme well. The bamboo roof rack, well-used surfboard, and slide-out rear cargo shelf filled with rum bottles, tropical fruit, and tiki statues were also nice touches. It may not be the flashiest car out there, but you can tell it gets driven regularly, and we like that.
If you've got a 1955-57 Chevy coupe, sedan, or wagon, Classic Industries has the parts and accessories you need to restore it. Click here to get a free catalog for your Tri-Five Chevy.