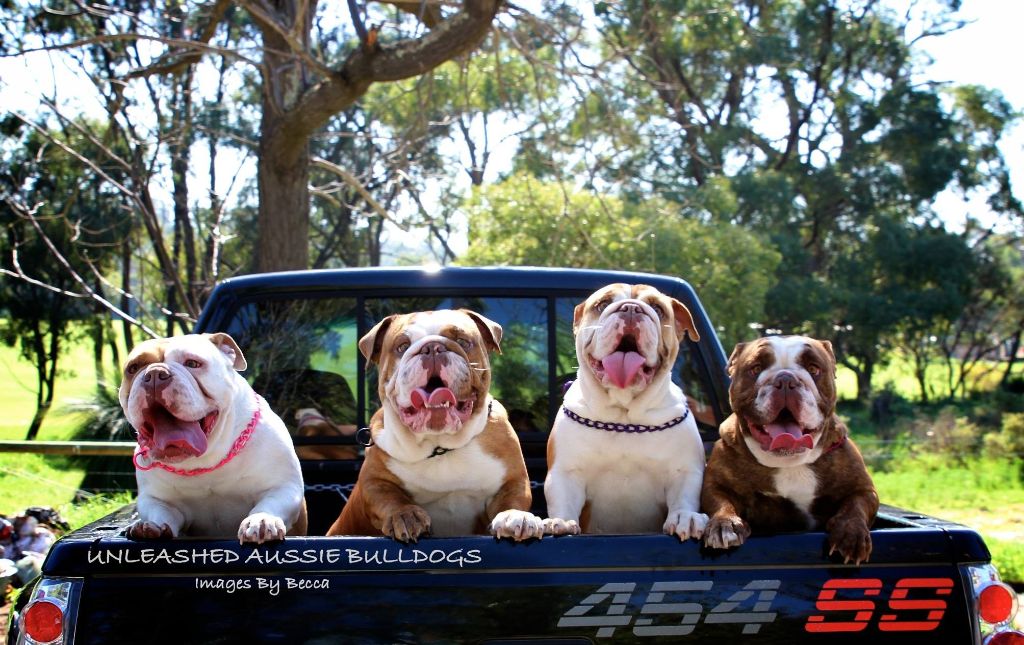 Here at Classic Industries, we love dogs. Whether you're wrenching in the garage, going for a cruise, or hanging out at a car show, your four-legged best friends will always want to be by your side.
So, in order to celebrate our canine friends and the Dog Days of Summer, we asked fans of Classic Industries' Facebook page to submit photos of their classic cars and dogs together. We got several great submissions, but our favorite of them all was the shot featured above, taken by Bec Allnatt of Perth, Australia. The four friendly bulldogs seem like they're having a grand old time in the bed of Bec's 454 SS pickup.
Since we liked the photo so much, we wanted to learn a little more about Bec, her cars, and these bulldogs. Read on to see our interview.
Classic Industries: First, could you tell us a little about yourself?

My name is Bec Allnatt and I am married to Brent. We live in Perth, Australia with our two bulldogs Nelson and Bozley. We are both originally from Dunedin, New Zealand. We have lived in Perth for the last 15 years.
Brent works as an underground miner and I work for a towing company. I also do a little bit of photography on the side... it's more like a hobby, really. We are both serious car fanatics, or as we call them here in Australia, "rev heads". We are part of a car club called "55, 56, 57 Chevrolet Club of WA" and they are a big part of our lives. They're the most awesome group of people, and I have been the event co-ordinator for the club for about 7 years now.

CI: How did you originally become interested in classic cars?
Both Brent and I come from families that were into classic cars. My dad had Holdens and Ford Zephyrs, and Brent's dad had everything from Chevs to Caddies to Holdens.
CI: We really liked the photos of your '57 Chevy and 454 SS—can you tell us a little about each?
We bought our '57 Chev in 2007 with an original 235ci motor, and then converted it to a 350 in 2008. Since then, we have repowered it again to a 383ci. Brent has had a couple of goes at drag racing her down the track, and she has pulled 11.88 seconds in the quarter mile.

In 2008, we also bought a 1957 pickup that needed quite a bit of love to get on the road and licensed. We found it too hard deciding which car to spend money on each week, so we sold the '57 pickup and imported this 1990 Silverado 454 SS instead. Fortunately, it was already licensed so she was good to go. We are currently stroking the 454 out to a 496.
CI: Have you owned or restored any other classic cars over the years? If so, tell us about them.
We didn't really own anything decent until we moved to Australia. At the time when we left New Zealand, there didn't seem to be a lot of spare money around to spend on hot rods. However, we have always owned older cars like Ford Falcon utes and an F-100.
CI: We can tell you love dogs. How many do you own? Can you introduce us to each dog in the photo with your truck?

I absolutely love dogs! We have two bulldogs of our own, Nelson and Bozley. Aside from dogs, my other passion is photography. Put the two together and I am in heaven. The bulldogs in the truck are regulars in front of my lens. From left to right, I would like to introduce you to Riot, Static, Fusion, and Riplee.
This photo was actually a last resort photo. Getting four dogs together in one shot is quite the mission, and two are pups so they were running amok. We couldn't get them to stay still in one place for longer than a second! So, I had the idea to chuck them in the back of our truck. Tracey and John, the dogs' owners, were mortified and thought they would damage the truck, but they didn't. They just added to the slobber that's already on it.
CI: Tell us about Unleashed Aussie Bulldogs. How are you involved with them?
Since we first got our Bulldogs, I have met so many like-minded people, and being a photographer means I get to meet even more. I first met John and Tracey from Unleashed Aussie Bulldogs when I adopted Bozley from them. He is now two years old. Tracey and John organize a "bulldog fun day" once a year, and I photograph it for them.
As their bulldog family grows, we like to stay up-to-date with their "pawtraits".
CI: What's your experience with Classic Industries? Is there anything we can do to improve?
I first found Classic Industries when we were looking for a certain set of valve covers for our new 496 motor. Classic Industries went out of their way to help me try to find what I was chasing!
CI: Any idea what parts you'll be ordering next?
Not sure yet, but we can't wait to have a look at the website and see what we need—or rather what we don't need... what we want!