Not Your Typical Credit Card Offer: The Classic Industries VISA Platinum Rewards Card
For enthusiasts, building cars is more than just a hobby, it's a lifestyle!
The color of the card in your wallet can be a symbol of status and prestige, but for the automotive enthusiast, carrying a Classic Industries Visa Platinum Rewards card makes a bigger statement. If you're a die-hard gear head who is unimpressed with run-of-the-mill credit card designs, Classic Industries offers alternatives.
Make Your Car A Star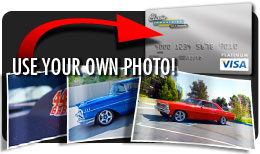 Choose from a selection of designs featuring some of their high-octane builds, or use a picture of your own pride and joy to customize your card. Either way, it's sure to be a conversation starter, and there is no better way to show off your passion while paying your bill.
Stand Out and Save Money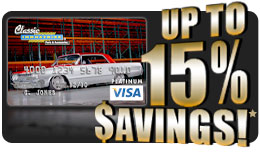 This credit card is much more than a vehicle showcase, Enthusiasts who use these custom VISA cards to pay for their Classic Industries order are entitled to save up to 15%! That savings can go a long way, especially if you plan to restore more than one vehicle.
What are you waiting for? Get into gear and cruise into savings!
Holders of the Classic Industries Credit Card enjoy a low fixed APR and a low adjustable APR after six months. There are no annual fees, and cardholders will earn reward points when they shop with hundreds of online and neighborhood retailers, plus bonus points at select merchants! These points may be redeemed for travel, merchandise, and more! Apply for your Classic Industries Visa Platinum Rewards Card and start saving today.