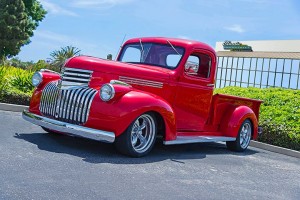 Like most good things in life, finding a clean base for a restoration project is often a long and arduous task. You can't just expect someone to show up at your doorstep and hand you the keys to your dream car, you've got to get out there and search for it (or pay someone else big bucks to do the leg work for you).
Mike Guido, of Costa Mesa, California, knew exactly what he was looking for, and had the patience to endure years of fruitless searching. In fact, he looked for the right classic pickup to restore for over two decades. That level of dedication demands respect.
Thankfully for Mike, the search paid off, and he came upon the 1946 Chevy truck seen here.