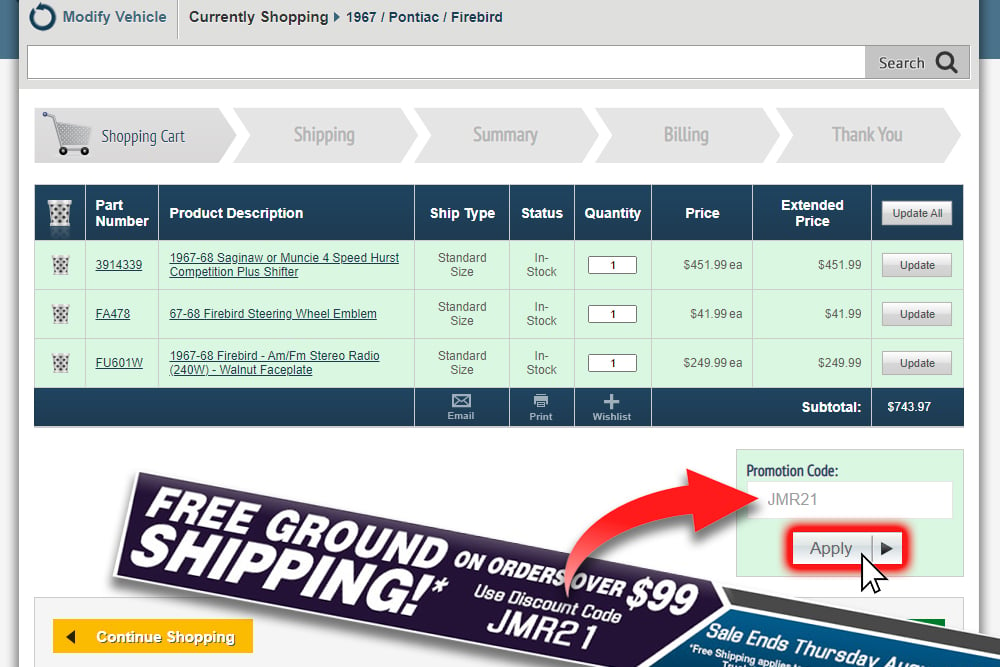 When you've found the restoration parts you need for your classic car on ClassicIndustries.com, you'll be ready to place an order. The basic checkout process is simple, but there are some tips and tricks you may not be aware of. In this FAQ article, we'll guide you through the checkout process, including how to add a Classic Industries discount code to your order.
Order Checkout
Before you begin, we recommend creating an account on our site. Please refer to this article for more details on account creation and management. Once you've created an account and logged in, search and/or browse for the parts you need.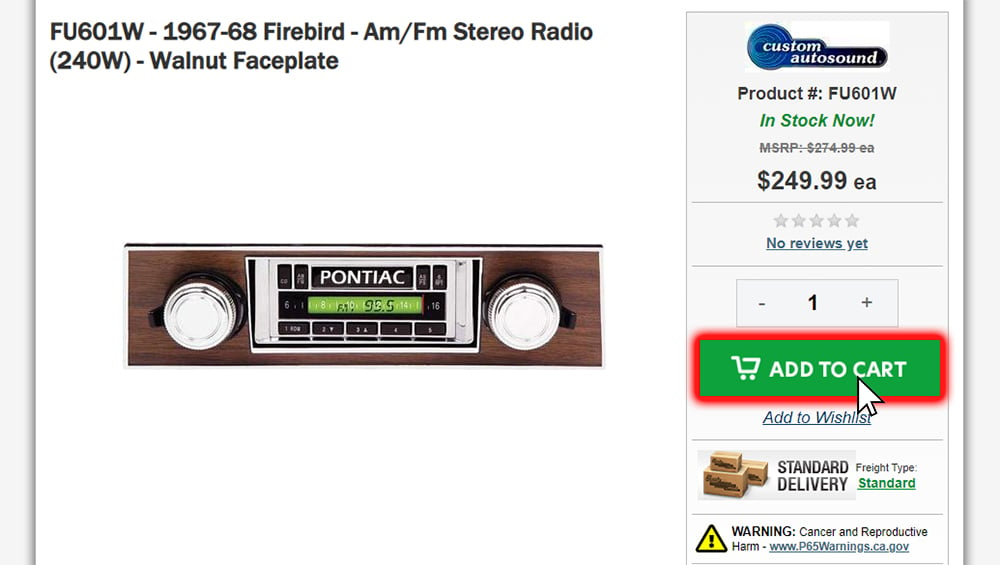 When you've found a part you'd like to order, click the Add to Cart button. If you need multiples of a specific part, you can use the + button to change the quantity. This can also be done later from the cart.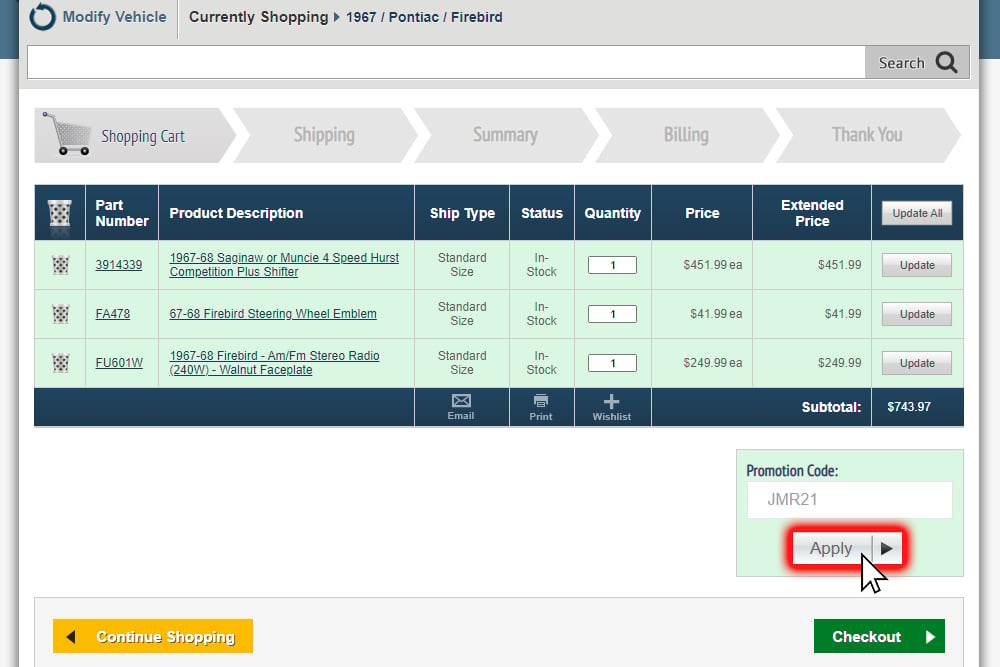 After clicking Add to Cart, you'll be redirected to the cart screen. To add more items, click the yellow Continue Shopping button in the bottom left corner. In this example, you can see we've added three parts to our cart.
Applying a Classic Industries Discount Code
In the previous image, you can see the Promotion Code box in the shopping cart. This is where you can apply any discount codes you've received to your order. So, where do you get Classic Industries discount codes? Read on, and we'll explain.
Note: the discount code shown here is an example and may not be currently valid. For more details on our promotional offers and discounts, click here.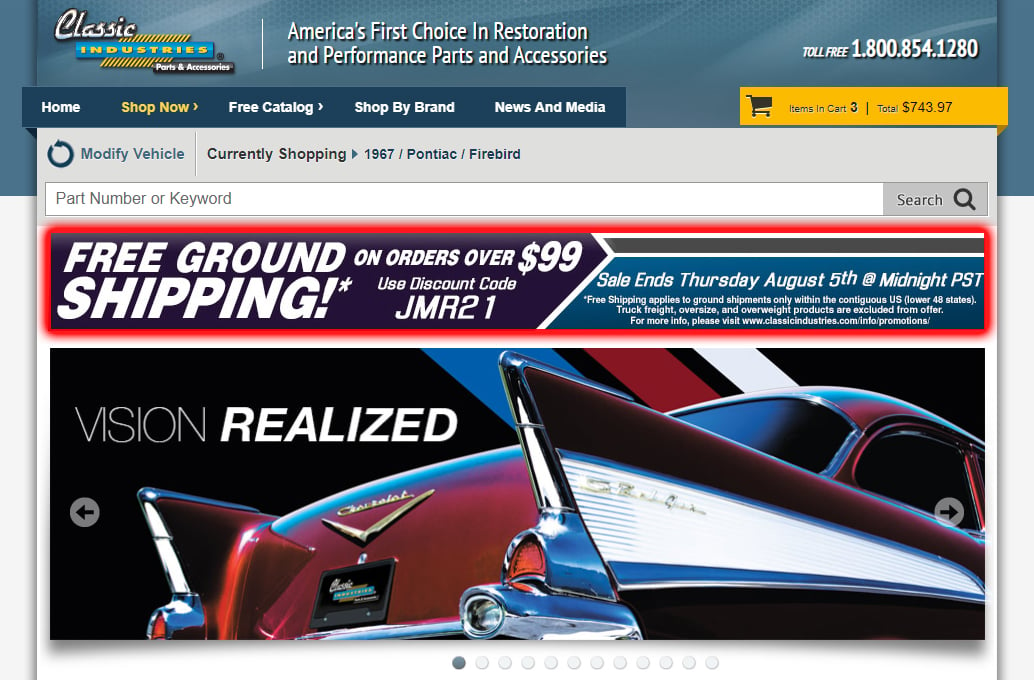 One place to find Classic Industries discount codes is in the banner just below the search bar on our home page (pictured above). Users who have created accounts and subscribed to our email newsletter will also occasionally receive discount codes via email. Click here to subscribe to our e-blast newsletter.
If you have a discount code, return to your cart, type it in, and click Apply. This will result in a confirmation message: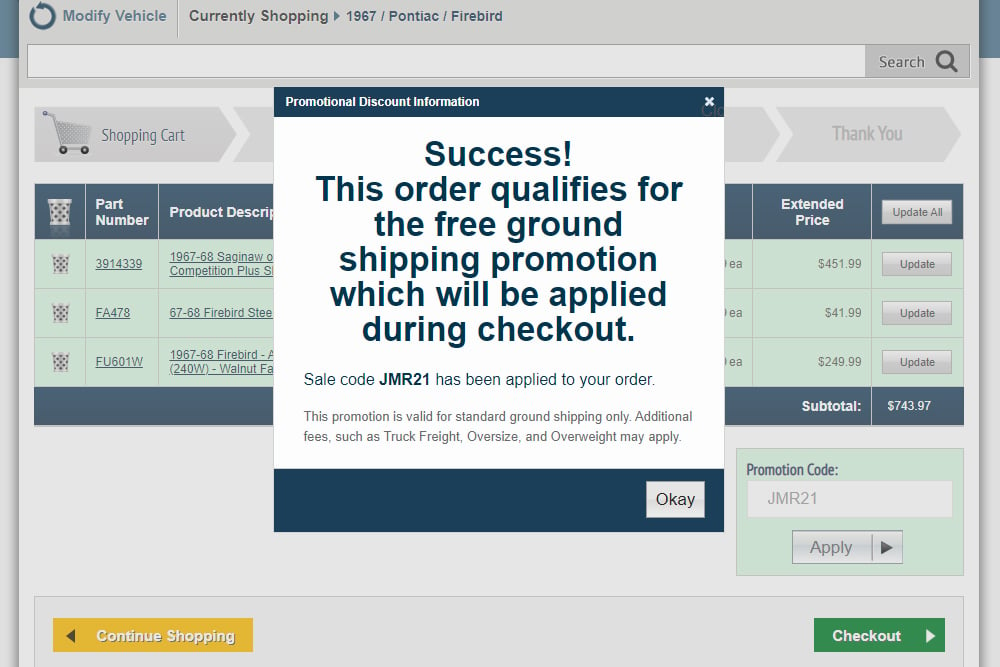 Click the Okay button to confirm the discount code.
Checking Order Details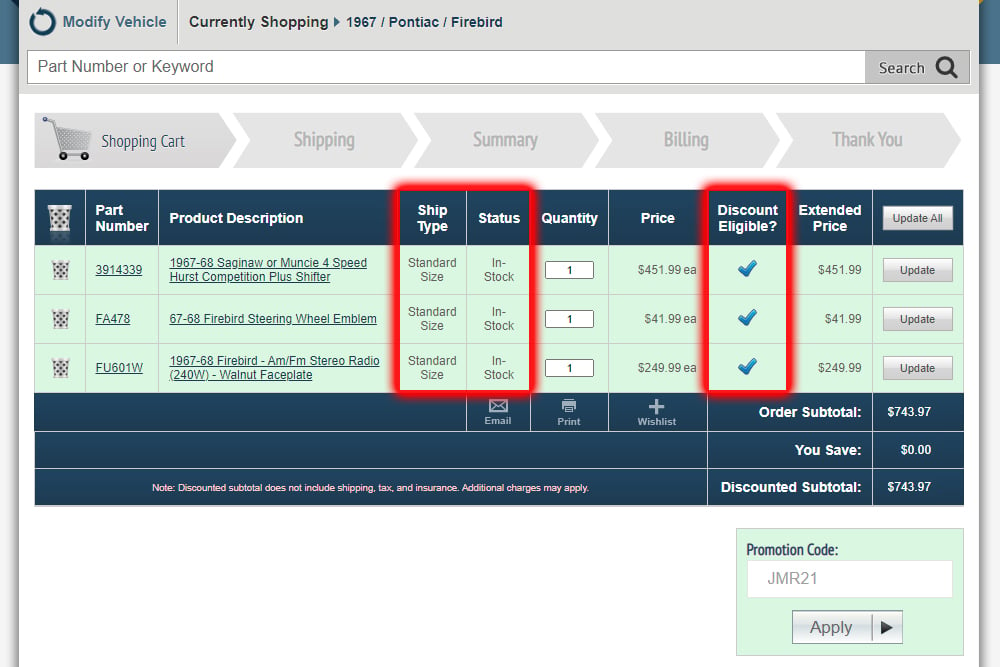 There are a few important fields to note in the shopping cart:
Ship Type lists whether an item is standard size, over-size, or over-weight. Large and heavy items such as body panels and crate engines must be shipped differently, and may take longer to arrive. The free shipping code we used does not apply to over-size and over-weight items, but all the items in this example are standard size, so it will apply to them. Click here for more details on over-size and over-weight items.
Status lists whether an item is in-stock or backordered. Backordered items are currently out of stock and will take longer to arrive than in-stock items. Click here to read more about backorders.
Discount Eligible shows a check mark for all items that are eligible for some (but not all) discount codes. Items that are not discount eligible will show a "NO" in this column. Click here to learn about discount eligibility.
Here's what it looks like when we add an over-size item to the cart. This rear quarter panel is too big for standard shipping, so it must be sent by truck freight. The discount code in our example says "valid for standard ground shipping only" so it would not apply to this item.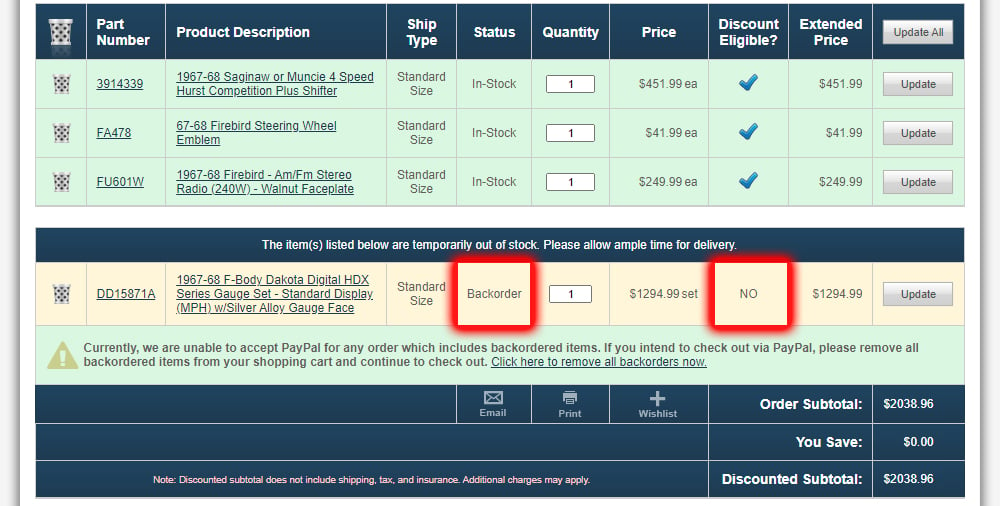 Here's what it looks like when a backordered item is added to the cart. Notice that it is currently out of stock and not eligible for discount codes. If you'd like to save an items for later, consider adding it to your wish list.
Completing Your Order
Once we've added all the items we want to our cart and applied our discount code, we can proceed to complete the order. Click the green Checkout button at the bottom right of the cart screen. This will direct you to the Shipping Info screen: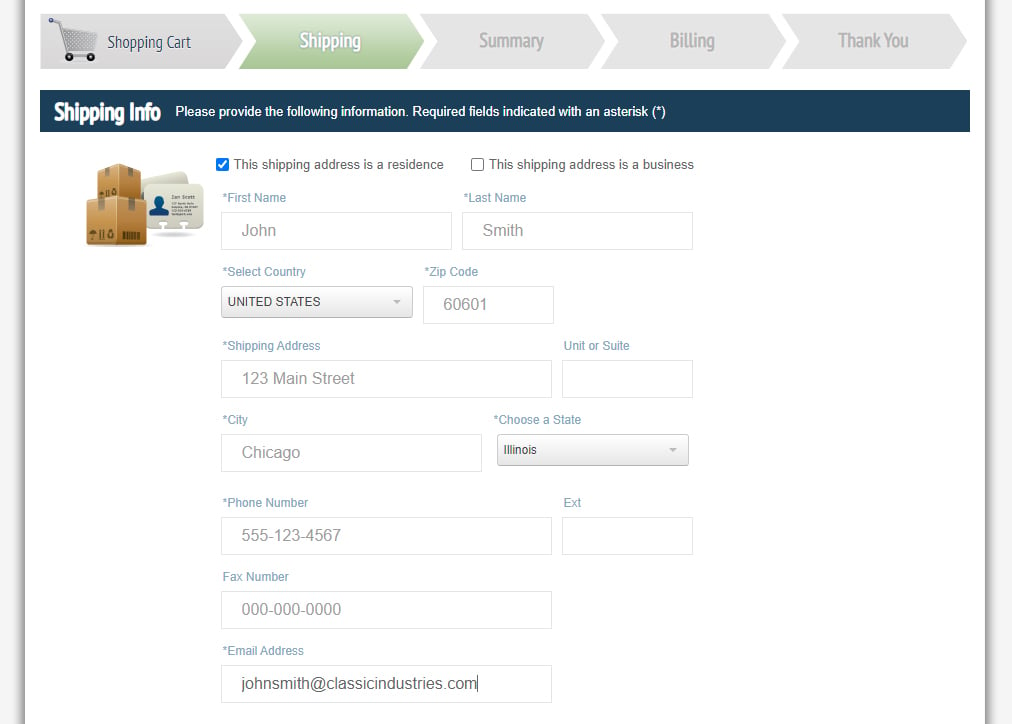 Type in your shipping info, including a phone number and email address. Your order confirmation will be sent to this email address.
Scroll down to select a shipping option. Our discount code example offered free ground shipping, so we selected Ground Residential and clicked the check box to agree to the terms and conditions. Once that's done, click Billing Summary to go to the next screen.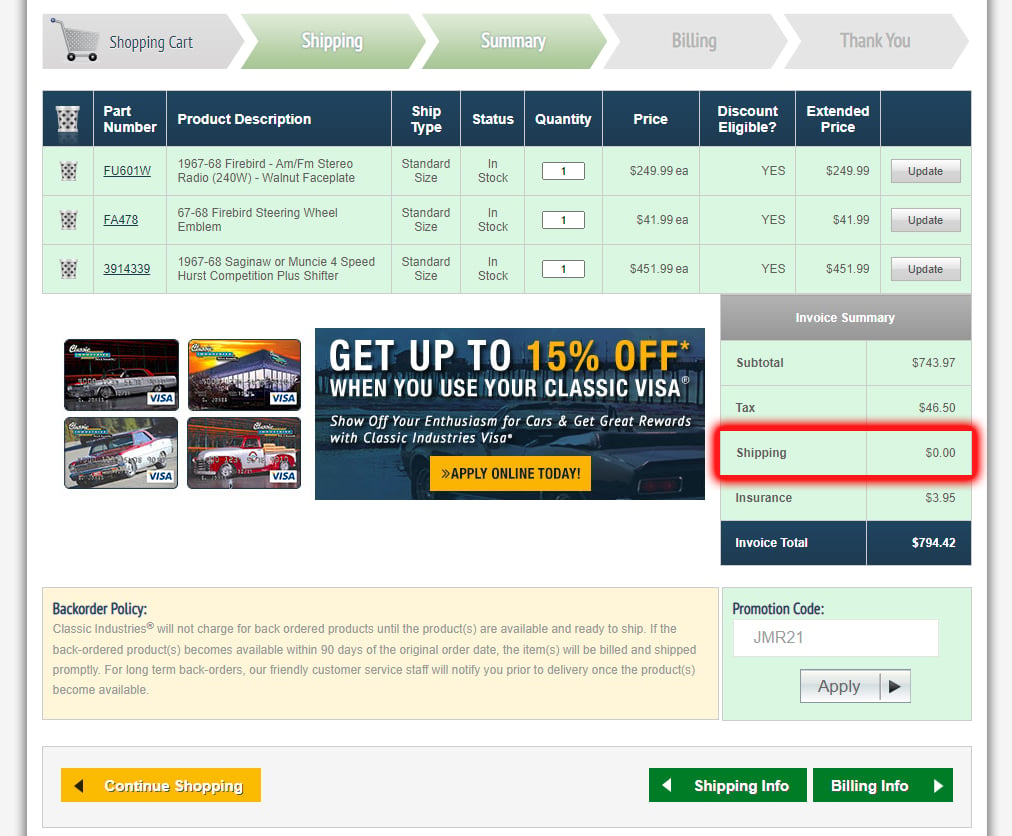 On the billing summary screen, we can review and make any final changes to the contents of our order. We also take a look at the Shipping field, which shows $0.00 because of the free shipping code we used. Since everything looks correct, we can click Billing Info to go to the next screen.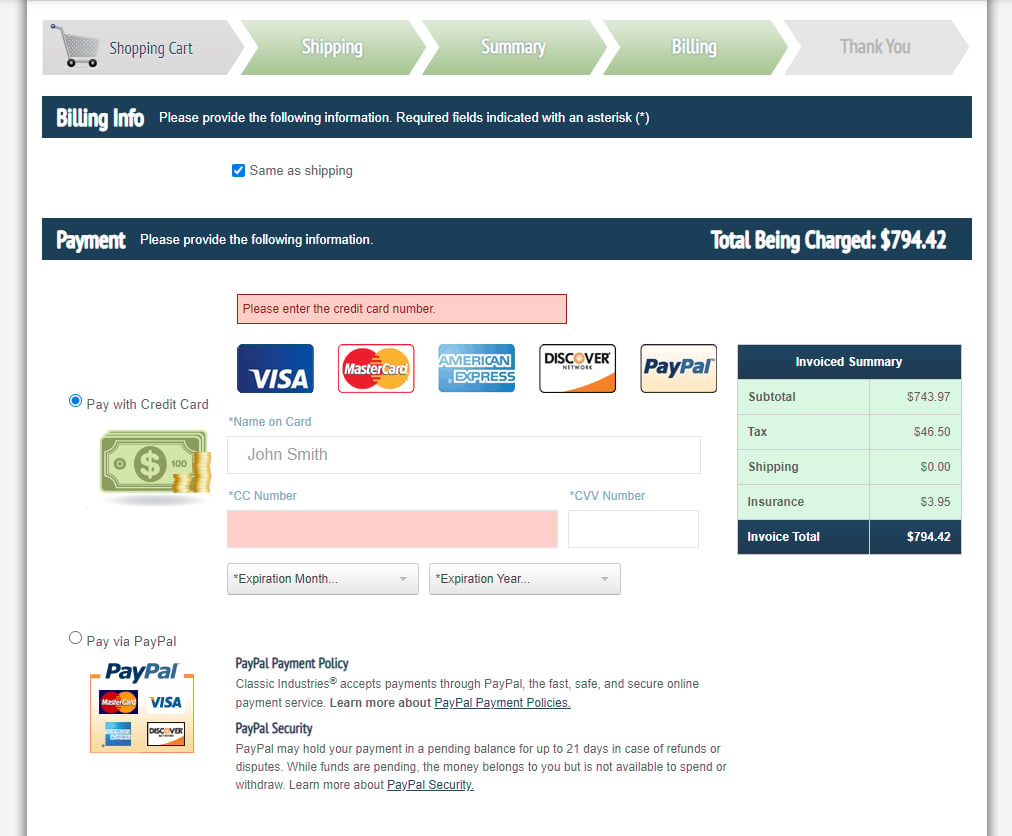 If your billing info is different from your shipping info, you can fill that out. If not, click the "Same as shipping" check box as we have in the screenshot above. Then enter your payment info, either credit card or PayPal. When that's complete, there's one optional step left:

Scrolling down on this screen, you can enter a Catalog Source Code. This is for customers who placed online orders of parts they found in one of our catalogs. If you don't have a catalog, that's OK — this field is optional.
Congratulations! You're done. Click Complete Order to place your order. You'll be greeted with a Thank You screen to confirm that the order has been placed, and you'll also receive a confirmation email with an invoice number.
Tracking an Order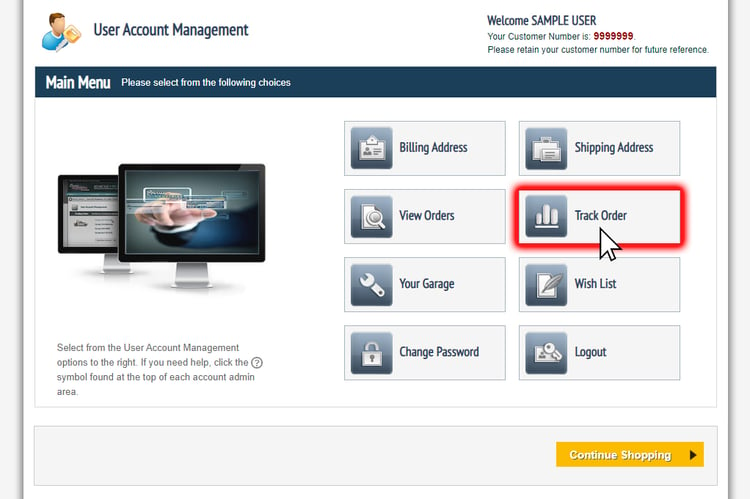 For a step-by-step guide to tracking your order, please read our previous FAQ article: Account Management & Order Tracking.